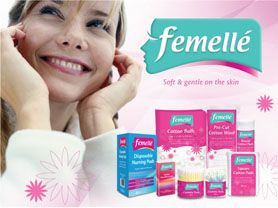 Sep 16, 2012
Fakhruddin Holdings announces the launch of a new brand - Femelle
Fakhruddin Holding, a leading conglomerate in the Middle East, announced today that it was launching a new brand catering to the lifestyle of today's women. The new brand, Femelle, has been in development for some time and will be officially launched in September 2012.

Femelle is a brand targeting women providing a range of personal care products that are soft and gentle on the skin. The Femelle portfolio will initially consist of cotton balls, pre-cut cotton wool, round cotton pads, square cotton pads, cosmetics buds, disposal nursing pads and pocket handkerchiefs.

Dev Makh, Group Marketing & Communications Director, commented;

" Femelle is a new brand that has been developed to cater for the lifestyle of today's women. The concept was created as we felt that there was a niche in the market for a mid level brand that could provide a range of personal care products for women that combined both quality and value for money. Initial impressions of the brand have been positive and we look forward to making this brand a reputable household name"

If you are interested in learning more about Femelle and becoming an agent, all enquiries should be directed to Fakhruddin Holdings marketing and communications department.