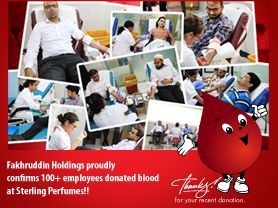 Sep 15, 2014
Fakhruddin Holdings organizes blood donation campaign across the group.
Fakhruddin Group organizes a blood donation campaign on 15th September 2014 at their DIP Location at Sterling Parfum Industries.
Over 100 employees donated blood for the campaign. This initiative organised with DHA was a success. Latifa hospital in conjunction with Sterling Parfums set up the event. The campaign would also be held at Fakhruddin Trading establishment located in Deira. All the employees were motivated to donate blood for the betterment of UAE society and to aid the shortage of blood across UAE hospitals.
Mr. Amit Vardhan Head of Marketing & Mr. Meiraj Hussain, Head of Human Resources thanked the hospital for their support and assured them of continued contribution in CSR activities throughout the year. They also encouraged other organizations to participate in the blood donation activity.