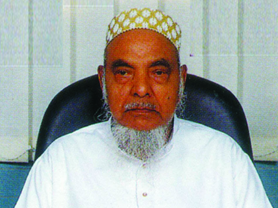 Fakhruddin Holdings is a leading conglomerate with a diverse portfolio of successful businesses that serves the needs of a global audience. In 1963, its founder, the late Fakhruddin Ebrahimiji (pictured opposite) had a vision of creating a successful organization that would serve the needs of a global audience. This vision was turned into reality by the commitment and dedication shown by the late Fakhruddin Ebrahimiji and his four sons, Akber Ali Fakhruddin (now retired from the family business), Husainy Fakhruddin, Mohammed Fakhruddin and Ali Asgar Fakhruddin.
In 1963, Fakhruddin Ebrahim Al Hindi, a small trading company, was formally established with a commitment to building a foundation to what is now a highly respectable multi -million dollar organization – Fakhruddin Holdings.


Fakhruddin started off as a trading company into import and export of business and consumer products which further expanded into a portfolio of diverse businesses that are commercially successful. Today, the portfolio includes trading, plastics, beauty and personal care, property development and strategic joint ventures.
The introduction of Sterling Parfums gave Fakhruddin its first venture into the beauty and personal care industry which saw a major potential in mass market perfumes across the GCC. What started as a set up for contract manufacturing turned into a more profitable business venture when the company decided to launch its own brand of lifestyle products – Armaf, Estiara, Cosmo Designs and Hamidi Oud which brought the company further into the international arena.
The addition of Premier Cosmetics only complimented the portfolio with cosmetics adding a diverse range of beauty and personal care products under its brand Lady Diana and FEAH.
With the constant need to innovate and increase market competitiveness, Premier Plastics was formed which involved the development and manufacture of a diverse range of plastic items that includes caps and closures for perfume bottles, aerosols and water bottles for both internal and contract manufacturing purposes.
Capitalizing on the construction boom period, the board was quick to form Fakhruddin Properties in early 2000, that involved construction of various commercial, residential and industrial projects comprising apartments, villas, offices, shopping malls across the United Arab Emirates that includes Downtown Jebel Ali, Sheikh Zayed Road, Business Bay, Silicon Oasis, Sports City, Jumeirah Village South, International City, Ajman and various labour camps across the U.A.E.
Fakhruddin Holdings is constantly looking at innovative ways to add commercially viable brands to our diverse portfolio of products and services. This was demonstrated in the last 12 months with a joint venture formed with Akida Holdings and the incubation of Fakhruddin Consultancy Services.
Akida Holdings specializes in green air technology in particular NASA patented technology to provide air sanitation systems for commercial and consumer use. Fakhruddin Consultancy Services was developed to provide consultancy services to clients across the energy and utilities sector.
With state-of-the-art manufacturing facilities that cater to the growing demand of both local and international requirements, the group has distribution arms that extend across Africa, Asia, Europe, Middle East, North America and South America.
The manufacturing units are ably supported by an extensive warehousing and distribution facility with an available space of over 500,000sq.ft and readily available stock.
Fakhruddin Holdings understands the needs and expectation of its clients and consistently delivers cost effective customized solutions. The manufacturing site operating at the Sterling Perfume premises has an annual production capacity of approximately 120 million pieces across the beauty and personal care industry.
Fakhruddin Holdings is committed to investing in relationships with our stakeholders to facilitate sustainable business growth. The phenomenal success and growth we have experienced has been due to diligence of the exceptional business acumen of our visionaries and professionals which ensured that we constantly reinvent ourselves to suit the market requirements.
Our Evolution
1963

Fakhruddin Ebrahim Al Hindi (now Fakhruddin Trading)

1998

Sterling Parfums Industries LLC

2003

Fakhruddin Properties

2011

Fakhruddin Consultancy
Next
Previous